Pacific Summary. 15 March 2016 - 17 March 2016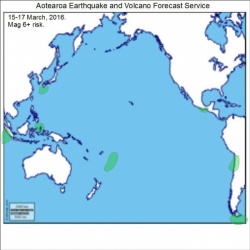 Click to Enlarge

Quake activity may increase.
Magnitude 6+ risk areas are Scotia Sea, South of Titicaca, Southern Mexico, Ryuku Islands, Sumatra, Molucca Sea, Fiji, Kermadec Islands,
Location confidence = low.
Volcanoes may be very active. Sinabung, Masaya, Rincon de la Vieja, Tunguruhua, Sangay, Nevado del Ruiz, Semeru.
The period may be volcanic with subdued quakes.
The forecast period may be extended.

Update. 15 March 0700NZST.
Tonga is added to Mag 6+ risk areas.

Update. 15 March 2200NZST.
15 March. Tonga 5.1, South of Africa 5.8
The Aotearoa forecast is already a raging success but the Pacific is eerily quiet. No significant action today.
Data is showing potential for heavy action in the Indian Ocean. Sumatra, Java are hotspots for quake or volcano action.
This Service hasn't seen such conditions before so confidence is low...it is time to sit back and wait and see what happens.

Summary.
Quakes and eruptions were subdued during the period.
Volcanic indicators were high despite little activity.
The possibility for Pacific and Indonesian eruptions seems elevated next few weeks.

Content © Roary Arbon 2013 - 2016
Website Design by Go Tech.