Aotearoa Summary. 27 March 2016 - 29 March 2016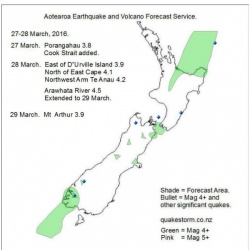 Click to Enlarge

Quake activity may increase.
Magnitude 4+ risk areas are East Cape, Bay of Plenty, Rotorua, Taumarunui, Lower Clarence Valley, Kekerengu, South Awatere Valley, Christchurch, Upper Taramakau, Whitcombe, Hollyford, Northwest Arm Te Anau, Fiordland.
Volcanoes quiet.

Update. 27 March 2200NZST.
27 March. Porangahau 3.8, Southwest of Wanganui 3.5, Hollyford/Pyke River 3.4
Cook Strait is added to Mag 4+ risk areas.
Quakes arrived on cue today and widely felt but not reaching Mag 4.
More quakes seem likely. Quake driving conditions look strong.

Update. 28 March 2230NZST.
28 March. East northeast of D'Urville Island 3.9, North of East Cape 4.1, Northwest Arm Te Anau 4.2, Upper Arawhata River 4.5
The forecast period is extended to 29 March.
Quakes could be quieter on 29 March before increasing again.
Two near perfect location hits to match the two hits from the 15-17 March period.
The remote Upper Arawhata 4.5 went mostly unnoticed and just a couple days hike over the Olivine Range from the Hollyford River target zone.
The addition of Cook Strait was justified. The forecast map now shows Northern Cook Strait and the East of D'Urville 3.9 was nearby.

Update. 29 March 2300NZST.
29 March. Mt Arthur 3.9
Action eased today as expected.
Quakes are busy but at lower magnitudes.
The Mt Arthur 3.9 near Motueka was very deep and not felt at the surface.
The potential for quakes is still present but quakes are more likely to continue easing ahead of a new quake period on 3 April.

Summary.
27 March. Porangahau 3.8, Cook Strait added.
28 March. EastNortheast of D'Urville Island 3.9, North of East Cape 4.1, Northwest Arm Te Anau 4.2, Arawhata River 4.5
29 March. Mt Arthur 3.9
31 March. Christchurch 3.8
Two excellent location successes during the period at Te Anau and Arawhata River, very close to Hollyford River.
The decision not to extend the forecast beyond 29 March was a good one.
Quakes dropped below Mag 4 but stayed busy, including Christchurch 3.8



Content © Roary Arbon 2013 - 2016
Website Design by Go Tech.