Pacific Summary. 3 April 2016 - 5 April 2016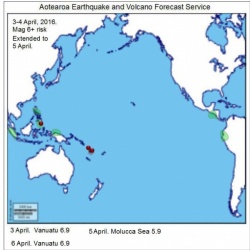 Click to Enlarge

Quake activity may increase.
Magnitude 6+ risk areas are Vanuatu, Papua, Molucca Sea, Onshore Sumatra, Nicaragua, Costa Rica, Colombia, Ecuador, Northern Peru.
Volcanoes may become active after 4 April. Kilauea, Mauna Loa, Sinabung, Nevado del Ruiz, Nevados de Chillan, Tiscani, Pacaya, Santiaguito, Sakurajima, Momotombo, Etna.
Forecast confidence = low.

Update. 3 April 2300NZST.
3 April. Vanuatu 6.9
The forecast period has got off to a good start thankfully after the last Pacific forecast fell over.
All eyes at this Service are turned toward volcanos and Hawaii in particular for 7-9 April.
Good behind the scenes success, Espiritu Santo was the specific target.

Update. 4 April 0930NZST.
The forecast period is extended to 5 April.
Philippines is added to Mag 6+ risk areas.

Summary.
3 April. Vanuatu 6.9
5 April. Molucca Sea 5.9
6 April. Vanuatu 6.9
Quakes weren't happening in New Zealand so that forecast was stopped on 4 April.
On the other hand Southwest Pacific quakes were going off so that forecast was extended, a good choice.
Good location successes at Vanuatu and Molucca Sea plus a good pickup of the Vanuatu double quake.
The second Vanuatu quake came on 6 April, a day late but still a success to this Service.
Volcanoes have been active but at moderate levels.



Content © Roary Arbon 2013 - 2016
Website Design by Go Tech.