Pacific Summary. 7 April 2016 - 8 April 2016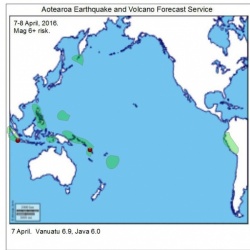 Click to Enlarge

Quake activity may increase.
Magnitude 6+ risk areas are Fiji, Tonga, Vanuatu, Solomon Islands, Bismarck Sea, Papua New Guinea, Molucca Sea, Northern Sumatra, Philippines, Marianas Islands, Northern Kuril Islands, Ecuador, Peru.
Quakes could be widespread.
Volcanic activity could be widespread. Mauna Loa, Kilauea, Sakurajima, Bromo, Sinabung, Alaid, Kamchatka Peninsula, Masaya, Popocatepetl, Sangay.
Cyclone Zena could deliver very heavy rain to Fiji.

Update. 7 April 23330NZST.
7 April. Vanuatu 6.9, West Java 6.0
Southern Sumatra, Banda Sea, Iran, Uzbekistan are added to Mag 6+ risk areas.
Three big quakes in four days at Vanuatu have been well covered by this Service.
West Pacific quakes have been very busy today, meeting the forecast profile.
Possibility Mag 7+ quake SW Pacific 8 April includes Vanuatu.
Volcanoes have been active at low levels last few days. Eruptions are possible 8-10 April.
Cyclone Zena delivered very heavy rain to Fiji then faded as it skirted to the south of Viti Levu, the main island.

Summary.
7 April. Vanuatu 6.9, West Java.
Three big quakes in four days at Vanuatu as the 3-4 April quake period rumbled on in the Pacific.
Solar conditions faded late on 7 April and as with Aotearoa quakes faded too.
Lunar conditions were strong during the period, enough to turn Cyclone Zena into a low wind strength rain bomb.


Content © Roary Arbon 2013 - 2016
Website Design by Go Tech.