Aotearoa Summary. 7 April 2016 - 8 April 2016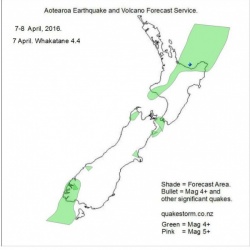 Click to Enlarge

Quake activity may increase.
Magnitude 4+ risk areas are East Cape, Bay of Plenty, Rotorua, Taumarunui, Taranaki, Cook Strait, Kekerengu, Christchurch, Kahurangi, Hollyford/Arawhata Valleys, Northwest Arm Te Anau, Fiordland.
Quakes may be widespread and centered around low tide from 8 April.
Volcanoes quiet. Possible seismic swarm Ruapehu.

Update. 7 April 2330NZST.
7 April. Whakatane 4.4
Quakes have been generally quiet during the period.
Driving conditions have picked up strongly tonight.
Low tide in Cook Strait comes around 11pm, 11am.

Update. 9 April 0900NZST.
9 April. Christchurch 3.5, 2.4, 3.4
Solar quake driving conditions weakened late yesterday.
Consequently quakes have dropped below Mag 4, justifying not extending the 7-8 April forecast period.
Mag 3 swarms are likely next day in Christchurch.
Lunar quake driving conditions are strong.
Low tide is around 11am, 11pm.
Pacific quakes have also faded.

Summary.
7 April. Whakatane 4.4
9 April. Christchurch 3.5, 3.4
Solar driving conditions faded early and so did quakes.

Content © Roary Arbon 2013 - 2016
Website Design by Go Tech.