Aotearoa Summary. 14 April 2016 - 15 April 2016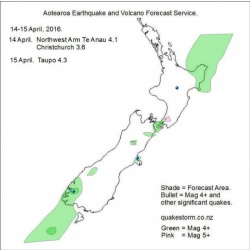 Click to Enlarge

Quake Update. 12 April.
12 April. West of Masterton 5.2
No damage from this quake.
A new forecast period is due from late 13 April so more strong activity is possible in Cook Strait, Southern Wairarapa, Kaikoura.

Forecast. 14-15 April.
Quake activity may increase.
Magnitude 5+ risk areas are West of Masterton/Atiwhakatu Stream, Northeast of Cape Campbell.
Magnitude 4+ risk areas are East Cape, Bay of Plenty, Wairoa, Southern Wairarapa, Wellington, Cook Strait, Kekerengu, South Awatere Valley, South of Upper Taramakau River,
Arawhata River, Okuru River, Northwest Arm Te Anau, Fiordland, Snares Islands, south of Fiordland, Christchurch.
Volcanoes quiet.

Update. 14 April 2300NZST.
14 April. Northwest Arm Te Anau 4.1, Christchurch 3.6
Quakes arrived locally at the same time as the Myanmar 6.9.
Christchurch got a widely felt swarm, luckily under Mag 4.
Quake driving conditions eased during the day but are back up again tonight so more action is possible.
Activity may stay in the South Island next day.

Summary.
14 April. Northwest Arm Te Anau 4.1, Christchurch 3.6
15 April. East of Taupo 4.3
Quakes moved north on 15 April against expectations.
Wairarapa and Cook Strait were quiet during the period.
Big Pacific quakes missed New Zealand this time.


Content © Roary Arbon 2013 - 2016
Website Design by Go Tech.