Pacific Summary. 14 April 2016 - 15 April 2016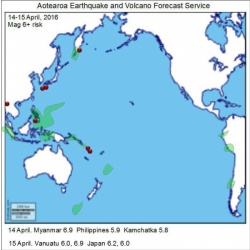 Click to Enlarge

Quake activity may increase.
Magnitude 6+ risk areas are South of New Zealand, Kermadec Islands, Solomon Islands, Eastern Papua New Guinea, Banda Sea, Sumatra, Molucca Sea, Philippines, Marianas Islands, Northern Kuril IsIands, Ecuador, Southern Peru, Southern Chile.
Volcanoes may become active from 16 April. Bromo, Sinabung, Suwanose-jima, Fuego, Colima, Masaya, Sangay.
The forecast period is likely to be extended.

Update. 14 April 2200NZST.
14 April. Myanmar 6.9, Philippines 5.9, Kamchatka Peninsula 5.8
The big Myanmar 6.9 was widely felt across Myanmar, Bangladesh and India.
Fortunately it was too deep to be dangerous although one report says many panicked people fell and hurt themselves trying to run out of buildings.
Philippines and Kamchatka were next biggest quakes.
Volcanoes have been active. Many minor eruptions and widespread.
Guatemalan volcanoes Fuego and Santiaguito were strongest.
Action could build more. Bromo.
Quake conditions eased today then cranked back up tonight so more action is possible. Southern Chile.

Summary.
14 April. Myanmar 6.9, Philippines 5.9, Kamchatka Peninsula 5.8
15 April. Vanuatu 6.0, 6.6; Japan 6.2, 6.0; Banda Sea 5.7, Molucca Sea 5.5
The period brought a big push to the Western Pacific.
Extended forecast areas were justified and could have been extended more, two Mag 6 locations were outside risk areas.
A lot of coconuts have been reported floating in the sea at Vanuatu.
Fuego settled after a moderate eruption on 14 April.
Pacific volcanoes are hot, including Kilauea.


Content © Roary Arbon 2013 - 2016
Website Design by Go Tech.