Pacific Summary. 16 April 2016 - 18 April 2016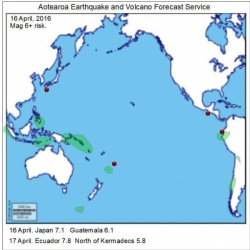 Click to Enlarge

Quake activity may increase.
Magnitude 6+ risk areas are South of New Zealand, Kermadec Islands, Vanuatu, Solomon Islands, Banda Sea, Sumatra, Molucca Sea, Ecuador, Northern Peru, South of Titicaca, Southern Chile.
Quakes may decrease in number but increase in Magnitude so the possibility for another Mag 7 exists.
Activity may move into the Southern Hemisphere today.
Volcanoes may become very active. Bromo, Sinabung, Sangay, Latin America, Sakurajima.
Forecast posted 16 April 1030NZST.

Update. 16 April, 1030NZST.
16 April. Guatemala 6.1 0211NZST, Japan 7.1 0425NZST.
Quakes have continued strongly today.
Two quakes have come before a new forecast with new locations was posted.

Update. 17 April 2100NZST.
17 April. Ecuador 7.8, North of Kermadec Islands 5.8
A large part of the Ecuadorian coastline has been flattened. Many casualties.
Quito is 150 km from the epicenter and shook for several minutes.
No tsunami.
Another big quake has struck north of the Kermadecs tonight.
Strong quake driving conditions tonight so another big quake is possible before the period ends.
Mag 6+ risk areas are Kermadec Islands, Tonga, Fiji, South of New Zealand.

Summary.
16 April. Guatemala 6.1, Kyushu, Japan 7.1
17 April. Ecuador 7.8, North of Kermadec Islands.
Quakes never need sleep but this Service does.
The Japan and Guatemala quakes came before a forecast could be posted. Kyushu was an obvious location for another big quake.
More big quakes seemed likely so a forecast for the remainder of the period was eventually posted, picking up the Ecuador 7.8.
The quake was the biggest for decades in Ecuador, a great forecasting success but sadly the town of Pedernales was flattened and hundreds of people dead.
Popocatepetl erupted spectacularly on 18 April.


Content © Roary Arbon 2013 - 2016
Website Design by Go Tech.