Pacific Summary. 18 April 2016 - 19 April 2016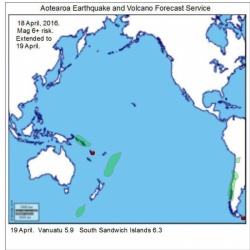 Click to Enlarge

Quake activity may increase.
Magnitude 6+ risk areas are South of Titicaca, Southern Chile, Kermadec Islands, Fiji, Tonga, Solomon Isands, South of New Zealand.
Many big quakes last few days.
More action in Southern Hemisphere is possible before the period ends.
Quakes may be infrequent.
Volcanoes may become active. Sangay, Bromo.

Update. 18 April 2230NZST.
The forecast period is extended to 19 April.
Quake driving conditions eased considerably today so quakes were quiet.
The 14-18 April quake period has been strong so quakes may still be possible next day.
Volcanoes seem to be hot, limited data, Sangay quiet, Bromo hot.

Update. 19 April 2230NZST.
19 April. Vanuatu 5.9, Southern Chile 5.6, South Sandwich Islands 6.3
Quakes moved into the Southern Hemisphere, a day or two later than expected.
Quake driving conditions were weak but big quakes showed up after the strong 14-18 April quake period.
Popocatepetl overlooking Mexico City has let go with a spectacular eruption. Other volcanoes were apparently quiet.
Quakes should ease more ahead of a new short quake period on 21 April.
The Ecuadorian town of Pedernales has been completely flattened by the 17 April Mag 7.8. Hundreds are now confirmed dead and thousands missing under collapsed buildings.

Summary.
19 April. Vanuatu 5.9, Southern Chile 5.6, South Sandwich Islands 6.3
Mixed location success 19 April. Quakes moved south meeting the wider forecast profile.
Due to weakening driving conditions but so many big quakes last days the period was a difficult one to forecast.
Popocatepetl erupted and other volcanoes were hot.


Content © Roary Arbon 2013 - 2016
Website Design by Go Tech.