Pacific Summary. 21 April 2016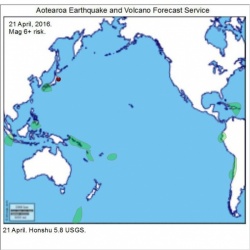 Click to Enlarge

Quake activity may increase.
Magnitude 6+ risk areas are Fiji, Solomon Islands, Vanuatu, South of Philippines, South of New Zealand, Southern Sumatra, Kyushu, Eastern Caribbean, Ecuador, Northern Chile.
Quake driving conditions are not strong so quakes may be under Mag 6.
Volcanic activity may continue at moderate levels.

Update. 21 April 2200NZST.
21 April. Honshu 5.8 USGS, North Atlantic Ocean 5.8
Pacific quakes were quiet today unless you live in Honshu.
Eruptions at Suwanosejima, Sinabung.
Moderate quake driving conditions are here tonight but unlikely to drive Mag 6 quakes.

Summary.
21 April. Honshu 5.8, North Atlantic Ocean 5.8
22 April. Ecuador 6.0, 5.8
23 April. Solomon Islands 5.8
Quakes just reached Mag 6 during the period.
Volcanoes stayed hot. Santiaguito erupted, continuing the trend for Latin America volcanoes after Popocatepetl let go 20 April.
Quakes are likely to stay under Mag 6 until a new quake period beginning 30 April.


Content © Roary Arbon 2013 - 2016
Website Design by Go Tech.