Aotearoa Summary. 21 April 2016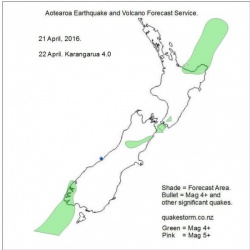 Click to Enlarge

Quake activity may increase.
Magnitude 4+ risk areas are East Cape, Bay of Plenty, Rotorua, Atiwhakatu Stream, Eastern Cook Strait, Kaikoura, South Awatere Valley, South of Taramakau River, Fiordland.
Quake driving conditions are not strong so quakes may be under Mag 4.
Volcanoes quiet.

Update. 21 April 2130NZST.
Local quakes were quiet today.
The forecasted moderate driving conditions are here tonight and fluctuating.
A Mag 3 swarm is possible.
Volcanoes quiet.

Summary.
22 April. Karangarua River 4.0
Aotearoa quakes were largely quiet during the period.

Content © Roary Arbon 2013 - 2016
Website Design by Go Tech.