Pacific Forecast Updated. 30 April 2016 - 2 May 2016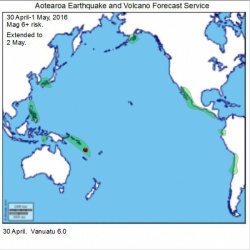 Click to Enlarge

25 April. 1200NZST.
Quake activity may increase.
A detailed forecast will be posted near to the period.
Quake driving conditions have been elevated but under Mag 6 last days.

Update. 29 April 2000NZST.
28 April. Mexico 5.8
29 April. Vanuatu 7.0, Eastern Pacific Ocean 6.6
Quakes were subdued since the end of the latest forecast period until today.
The Vanuatu 7.0 generated a moderate quakestorm into New Zealand. Cook Strait 3.9 was widely felt, Coromandel 4.2 offshore and Mt Cook.
A new forecast period starts late tomorrow and could be interesting.
A detailed forecast will be posted late tonight or early tomorrow.
Thanks.

Update. 29 April 2330NZST.
Quake activity may increase.
Magnitude 6+ risk areas are Vanuatu, Solomon Islands, Banda Sea, Philippines, Taiwan, Kyushu, Alaska, Mexico, Guatemala, El Salvador, Ecuador, Northern Chile.
Volcanic activity may increase. Turrialba, Santiaguito, Fuego.
The forecast period is likely to be extended.

Update. 1 May 2200NZST.
30 April. Vanuatu 6.0
The forecast period is extended to 2 May.
Moderate quake driving conditions arrived on time. Conditions are still moderate so more action may follow.
Incredibly, despite so many big quakes in Vanuatu last weeks 6.9, 6.7, 6.0, 6.7, 6.4, 6.0, 7.0, 6.0 more action there seems possible.
Volcanoes are simmering. Sakurajima, Turrialba.
More eruptions are possible.


Content © Roary Arbon 2013 - 2016
Website Design by Go Tech.