Aotearoa Summary. 1 May 2016 - 5 May 2016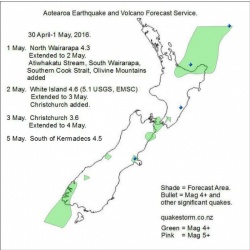 Click to Enlarge

Aotearoa Forecast Updated. 30 April-2 May, 2016.
Quake activity may increase.
Magnitude 4+ risk areas are East Cape, Bay of Plenty, Whakatane, Rotorua, Northern Cook Strait, Kaikoura, Mt Cook, Fiordland.
Volcanoes quiet.
Location confidence=low.
The period is likely to be extended.

Update. 1 May 2230NZST.
1 May. Porangahau 4.3
The forecast period is extended to 2 May.
Atiwhakatu Stream, South Wairarapa, Southern Cook Strait, Olivine Mountains are added as Mag 4+ risk areas.
Quake driving conditions arrived on cue but a little weaker than expected. Driving conditions are still present so more action could follow.
Volcanoes have been quiet since the 27 April unforecasted minor eruption at White Island.
Volcanic action is unlikely tomorrow although this situation could change following days.
White Island, Ruapehu, Rotorua are a little heated.

Update. 3 May 0000NZST.
2 May. White Island 4.6 (5.1 USGS, EMSC)
The forecast period is extended to 3 May.
Driving conditions picked up today but few Mag 4 quakes.
Geonet have posted confusing data for a moderate quake right at White Island. Mag 5.1 seems a better option, the quake was widely felt.
White Island should remain quiet.
Other volcanoes quiet.

Update. 4 May 1130NZST.
3 May. Christchurch 3.6
The forecast period is extended to 4 May.
The Sumner 3.6 gave Christchurch a good rattle last night, justifying the forecast addition.
Quakes are likely to be infrequent next couple of days but still a possibility for some Mag 4 action.
Lunar perigee on 6 May along with possible new solar drivers will extend the quake period for several more days.
White Island is quiet and more action seems unlikely next day.

Summary.
1 May. North Wairarapa 4.3
2 May. White Island 5.1 USGS, EMSC
3 May. Christchurch 3.6
5 May. South of Kermadecs 4.5
The decision to add Whakatane as an extra risk area within Bay of Plenty made some sense. Nearby White Island, shook hard and was felt as far away as Gisborne.
Adding Christchurch early on 3 May worked. Christchurch got a reasonable 3.6 shake in the evening.
North Island volcanoes were heated early in the period, following the 28 April eruption of White Island, then steadily cooled.

Content © Roary Arbon 2013 - 2016
Website Design by Go Tech.