Pacific Summary. 6 May 2016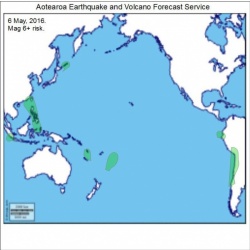 Click to Enlarge

Quake activity may increase.
Magnitude 6+ risk areas are Kermadec Islands, Fiji, South of Vanuatu, Vanuatu, Solomon Islands, Molucca Sea, Southern Sumatra, Philippines, Taiwan, Southern Kuril Islands, Ecuador, Southern Peru, Northern Chile.
Steady volcanic activity last few days may continue and quakes less frequent. Colima, Turrialba, Santiaguito, Fuego, Sangay.

Summary.
6 May. Mexico 5.5
Fuego, Santiaguito, Turrialba erupt 6 May. Colima is hot.
Latin American volcanoes are hot.
Quakes were quiet.
More volcano info Facebook/Roary Arbon.

Content © Roary Arbon 2013 - 2016
Website Design by Go Tech.