Pacific Summary. 17 May 2016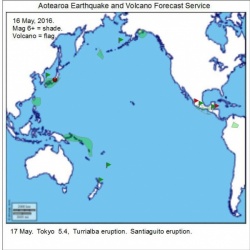 Click to Enlarge

Quake activity may increase.
Magnitude 6+ risk areas are South of Vanuatu, Vanuatu, Solomon Islands, Eastern Papua New Guinea, Taiwan, Kyushu, Honshu, Aleutian Islands, Alaska, Mexico, Guatemala, Colombia.
Volcanoes may be very active and quakes infrequent.
Santiaguato, Sinabung, Masaya, Telica, Turrialba, Sakurajima, Pavlof, Monowai, White Island.
Forecast confidence = low.

Summary.
17 May. Tokyo 5.4. Eruptions of Turrialba, Santiaguito.
Quakes and volcanic activity started to drop away as the strong 10-16 May volcanic period ends.
Decreasing Latin America volcanic activity may continue 18-19 May.
The unconfirmed undersea Kermadec eruption has ended.
Conditions may pick up briefly on 20 May.

Content © Roary Arbon 2013 - 2016
Website Design by Go Tech.