Pacific Summary. 24 May 2016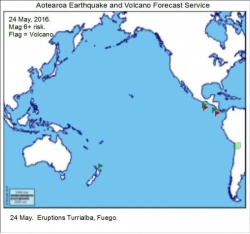 Click to Enlarge

Volcanic activity may increase.
Latin America remains a hotspot. Turrialba, Santiaguito.
Popocatepetl, Etna, White Island, Ruapehu are lower risk for eruptions.
Quake activity may increase.
Magnitude 6+ risk areas are Titicaca, Tibet.
Quakes are likely to be subdued.

Summary.
24 May. Eruptions of Turrialba, Fuego, Etna, Sinabung, Santiaguito. Mexico 5.3
Quakes were subdued but volcanoes were going off.
Big eruptions at Etna and Fuego, lava fountains at both volcanoes.
More action seems likely as a strong period approaches 27 May.

Content © Roary Arbon 2013 - 2016
Website Design by Go Tech.