Aotearoa Summary. 24 May 2016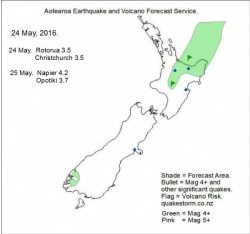 Click to Enlarge

Volcanic activity may increase.
White Island, Ruapehu possibility for minor eruption.
Quake activity may increase.
Magnitude 4+ risk areas are East Cape, Bay of Plenty, Rotorua, Tokoroa, Taumarunui, Volcanic Plateau, Urewera, Fiordland.
Quakes are likely to be subdued.
Another volcanic period is possible 27 May.
More info on Facebook/Roary Arbon.

Summary.
24 May. Rotorua 3.5, Christchurch 3.5
25 May. Napier 4.2, Opotiki 3.7
A significant flurry of quakes overnight on 24-25 May.
The Napier 4.2 was widely felt but the Christchurch 3.5 seemed to be a roller felt mostly at New Brighton.
No eruptions but Bay of Plenty is hot.
More action seems possible early on 27 May.

Content © Roary Arbon 2013 - 2016
Website Design by Go Tech.