Pacific Summary. 27 May 2016 - 28 May 2016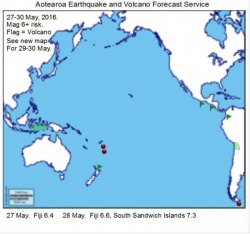 Click to Enlarge

Quake activity may increase.
Magnitude 6+ risk areas are South of Titicaca, Banda Sea.
Volcanic activity may increase.
Santiaguito, Turrialba, Nevado del Ruiz, Piton de la Fournaise.
Etna, White Island are lower eruption risk.

Update. 26 May 2230NZST.
24 May. Eruptions of Santiaguito, Piton de la Fournaise.
Global quakes were quiet today.
Santiaguito (pictured) is erupting daily.
Piton de la Fournaise is erupting for the first time this year. The big shield volcano forms the island of Reunion in the Indian Ocean.
Kilauea and nearby Pu'u O'o are inflating.
Volcanic activity seems likely to be strong tomorrow when new solar volcano driving conditions arrive.

Summary.
27 May. Fiji 6.3, Okinawa 5.9
28 May. Fiji 6.6, South Sandwich Islands 7.3
After many days absence big Pacific quakes have returned on cue but no location success.
The 26 May Piton de la Fournaise eruption threw 50 meter high lava fountains then suddenly ended.
Another eruption seems possible.
No data for other volcanoes today.
Solar quake driving conditions are increasing so more big quakes and eruptions seem possible on 29-30 May.
A new forecast map will be posted for 29-30 May.

Content © Roary Arbon 2013 - 2016
Website Design by Go Tech.