Pacific Summary. 29 May 2016 - 1 June 2016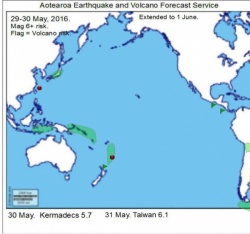 Click to Enlarge

Quake activity may increase.
Magnitude 6+ risk areas are Kermadec Islands, Tonga, Fiji, Vanuatu, Solomon Islands, Banda Sea, Honshu, South of Titicaca, South Sandwich Islands.
Volcanic activity may increase.
Turrialba, Santiaguito, Piton de la Fournaise, White Island, Etna.

Update. 29 May 2100NZST.
Pacific quakes have gone quiet again today.
Volcano news seems to have mostly dried up.
Satellite data is confirming an eruption at Bristol Island, Antarctica.
Volcano forecast confidence is now low, the period may be turning back to quakes.
Strong solar quake driving conditions may arrive tonight.

Update. 30 May 2300 NZST.
30 May. Kermadec Islands 5.7, 4.8
The forecast period is extended to 31 May.
Volcanoes were quiet today.
Quake driving conditions were high.
The significant Kermadecs 5.7, 4.8 double quake was the biggest Pacific quake.
Late quakes or eruptions are possible on 31 May.

Update. 1 June 0000NZST.
31 May. Taiwan 6.1
The forecast period is extended to 1 June.
The forecast period is ending. A late quake is possible.
Volcanoes are quiet. Eruptions seem unlikely.

Summary.
30 May. Kermadec Islands 5.7, 4.8, 5.4
31 May. Taiwan 6.4
1 June. South of Kermadec Islands 4.8
2 June. Kermadec Islands 5.4, Sumatra 6.5
Strong volcanic activity faded away during the period and was replaced by moderate quake activity.
Kermadecs had a significant large quake swarm as volcanoes cooled, including White Island and Ruapehu.
Quakes are likely to be infrequent ahead of a new quake period on 6 June.

Content © Roary Arbon 2013 - 2016
Website Design by Go Tech.