Aotearoa Summary. 6 June 2016 - 7 June 2016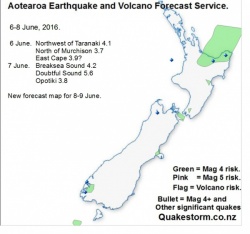 Click to Enlarge

Quake activity may increase.
Magnitude 4+ risk areas are East Cape, Bay of Plenty, Urewera, Rotorua, Napier, Eastern Tararuas, North of Murchison, Cook Strait, Christchurch, Kepler Mountains, Snares Islands.
Volcanoes quiet.

Summary.
6 June. Northwest of Taranaki 4.1, North of Murchison 3.7, East Cape 3.9? EMSC.
7 June. Breaksea Sound 4.2, Doubtful Sound 5.6, Opotiki 3.8.
Big quakes are near to home.
The Fiordland target area of Kepler Mountains is adjacent to Doubtful Sound.
A new forecast map is posted for 8-9 June.

Content © Roary Arbon 2013 - 2016
Website Design by Go Tech.