Pacific Summary. 8 June 2016 - 9 June 2016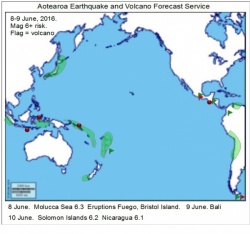 Click to Enlarge

Quake activity may increase.
Magnitude 6+ risk areas are Kermadec Islands, Fiordland, Tonga, Fiji, South of Vanuatu, Vanuatu, Solomon Islands, Banda Sea, Sumatra, Japan, Venezuela, Southern Peru, Titicaca, South of Titicaca, Coquimbo.
Volcanic activity may increase.
Bromo, Sinabung, Turrialba, Fuego, Santiaguito, Popocatepetl, Poas, Nevado del Ruiz, Bristol Island, Monowai.

Kermadec Islands Update. 9 June 2300NZST.
Forecasting volcanic action in the Kermadecs has one big problem.
Unlike the volcanoes forming the Andes Mountains, the volcanoes of the Kermadecs are under the sea.
Undersea eruptions in remote parts of the Pacific Ocean probably go undetected.
Volcanic tremor north of New Zealand is high.
A low confidence forecast for Kermadec Islands remains.

Summary.
8 June. Molucca Sea 6.3
9 June. Bali 6.2
10 June. Solomon Islands 6.2, Nicaragua 6.1
Big quakes moved into target areas.
Quakes stayed active on 10 June.
Solomon Islands had been quiet and out of forecast locations for several weeks.
Fuego, Bristol Island erupted 7 June.
A Kermadecs undersea eruption was possible but no confirmatory field observations yet...or ever. The area is remote.
Rumble V to the north of White Island is a possible eruption location.

Content © Roary Arbon 2013 - 2016
Website Design by Go Tech.