Aotearoa Summary. 8 June 2016 - 9 June 2016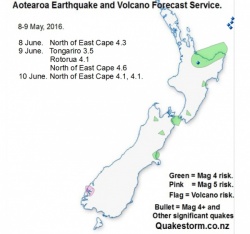 Click to Enlarge

Quake activity may increase.
Magnitude 5+ risk area are Doubtful Sound, Kepler Mountains.
Magnitude 4+ risk areas are East Cape, Opotiki, Bay of Plenty, Urewera, Rotorua, Napier, Eastern Tararuas, Cook Strait, North of Murchison, South Clarence Valley, Christchurch.
Volcanoes quiet.

Kermadec Islands Update. 9 June 2300NZST.
Forecasting volcanic action in the Kermadecs has one big problem.
Unlike the volcanoes forming the Andes Mountains, the volcanoes of the Kermadecs are under the sea.
Undersea eruptions in remote parts of the Pacific Ocean probably go undetected.
Volcanic tremor north of New Zealand is high.
A low confidence forecast for Kermadec Islands remains.

Summary.
8 June. North of East Cape 4.3
9 June. Tongariro 3.5, Rotorua 4.1, North of East Cape 4.6
10 June. North of East Cape 4.1, 4.1
Fiordland was quiet.
Quakes were frequent at volcanoes.
The active area north of East Cape is an area of undersea volcanoes.
Volcanic tremor eased on 10 June.

Content © Roary Arbon 2013 - 2016
Website Design by Go Tech.