Pacific Summary. 11 June 2016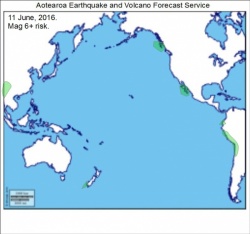 Click to Enlarge

Quake activity may increase.
Magnitude 6+ risk areas are Haida Gwai, Baja California, Pedernales, Peru, Titicaca, South of Titicaca, South of Fiordland, Fiordland.
Volcanoes quiet. Bulusan.

Summary.
11 June. Fiji 5.8
Quakes eased 11-12 June as the 6-12 June quake period ended.
Volcanoes were active, a forecasting mistake.
Volcanic activity usually follows quake activity and 12 June was volcanically active.
Popocatepetl overlooking Mexico City was forecasted for 8-9 June but blew on 12 June.
Remote Bristol Island near Antarctica seems to be in constant eruption.
Turrialba, Bromo, Sinabung were very heated 10-12 June.

Content © Roary Arbon 2013 - 2016
Website Design by Go Tech.