Aotearoa Summary. 11 June 2016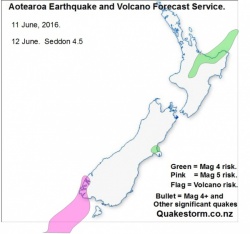 Click to Enlarge

Quake activity may increase.
Magnitude 5+ risk areas are South of Fiordland, Doubtful Sound, Kepler Mountains.
Magnitude 4+ risk areas are East Cape, Bay of Plenty, Rotorua, Taumarunui, Urewera, Christchurch.
Volcanoes quiet.

Update. 11 June 1130NZST.
Nancy Sound is added to Mag 5+ risk areas.

Summary.
12 June. Seddon 4.5
The long 6-12 June quake period began with the Doubtful Sound 5.6 and great forecast success.
Forecasts got wobbly at the end of the period. Cook Strait was dropped as a location for the first time in weeks as this Service became overfocussed on a big late quake in Fiordland and surely a Cook Strait quake then happens....Murphy's Law.
Forecasting can never be an exact science but was for a day on 7 June in Fiordland.
Quakes have eased but could reach Mag 3+ on 15 June.
A new forecast period begins 23 June.

Content © Roary Arbon 2013 - 2016
Website Design by Go Tech.