Pacific Summary. 23 June 2016 - 24 June 2016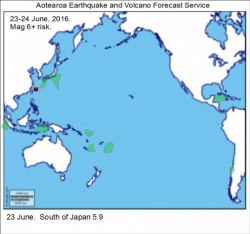 Click to Enlarge

Quake activity may increase.
Magnitude 6+ risk areas are Fiji, Tonga, Tanna, Santa Cruz Islands, Bismarck Sea, Banda Sea, Northern Sumatra, South of Japan, Honshu, North Caribbean Sea, Concepcion.
Volcanos may become more active from 24 June.
Santiaguito, Sinabung, Bristol Island.

Summary.
23 June. South of Japan 5.9, Kermadec Islands 5.1, 5.2
Solar driving condtions arrived weaker than expected but some location success on biggest quake.
Volcanoes were quiet.
A quake buildup may be underway.

Content © Roary Arbon 2013 - 2016
Website Design by Go Tech.