Aotearoa Summary. 23 June 2016 - 24 June 2016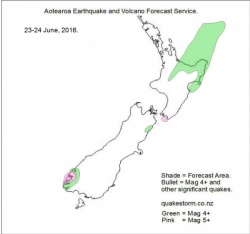 Click to Enlarge

Quake activity may increase.
Magnitude 5+ risk areas are Turakirae Head, Doubtful Sound.
Magnitude 4+ risk areas are Bay of Plenty, Opotiki, East Cape, Rotorua, Taumarunui, Urewera, Hawkes Bay, Seaward Kaikouras, Fiordland.
Volcanoes quiet.
More information at Facebook/Roary Arbon.

Update. 23 June 1200NZST.
Solar conditions have now reached the threshold for quakes to occur.

Summary.
Local quakes were quiet during the period.
Weaker then expected quake driving conditions arrived on cue.
A buildup is possibly underway.

Content © Roary Arbon 2013 - 2016
Website Design by Go Tech.