Aotearoa Summary. 25 June 2016 - 27 June 2016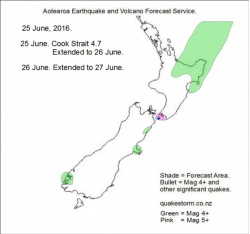 Click to Enlarge

Quake activity may increase.
Magnitude 5+ risk area is Turakirae Head.
Magnitude 4+ risk areas are East Cape, Bay of Plenty, Rotorua, Urewera, Murupara, Gisborne, Wairoa, Hawkes Bay, Seaward Kaikouras, Christchurch (Mt Pleasant), Doubtful Sound.
Quakes may be infrequent and late in the day.
Volcanoes quiet.

Update. 26 June 1230NZST.
25 June. Cook Strait 4.7
The forecast period is extended to 26 June.
Solar conditions have picked up today.
A late quake is possible as the end of the period nears.

Update. 27 June 1000NZST.
The forecast period is extended to 27 June.
Local quakes were quiet on 26 June.
Solar conditions were weaker than expected.
Driving conditions are fluctuating heavily today so the possibility for quakes is still present.

Summary.
25 June. Cook Strait 4.7
26 June. Christchurch 3.0
29 June. Cook Strait 3.9
Forecasted Magnitudes were too high during the period.
Good location success.
Wairoa, Rotorua, Taupo quake swarmed during the period in accordance with a "slow slip" quake over several days, recorded by the New Zealand Seismological Observatory, Geonet.
Maybe the Rotorua and Taupo hotpools got a bit hotter during the period.
A new forecast period begins 3 July.

Content © Roary Arbon 2013 - 2016
Website Design by Go Tech.