Pacific Summary. 3 July 2016 - 4 July 2016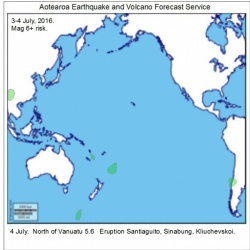 Click to Enlarge

Quake activity may increase.
Magnitude 6+ risk areas are Southern Chile, Kermadec Islands, South of New Zealand, Vanuatu, Myanmar.
Location confidence = low.
Volcanoes may become active from 4 July. Santiaguito, Sinabung, Pavlof, Planchon-Peteroa.

Summary.
4 July. Santa Cruz Islands 5.6. Eruptions Santiaguito, Sinabung, Kliuchevskoi.
Quakes never made it to Mag 6 during the period.
The largest quake was north of Vanuatu.
Volcanoes were active but no major eruptions.
Data is scarce for Kliuchevskoi on remote Kamchatka Peninsula.

Content © Roary Arbon 2013 - 2016
Website Design by Go Tech.