Aotearoa Summary. 8 July 2016 - 10 July 2016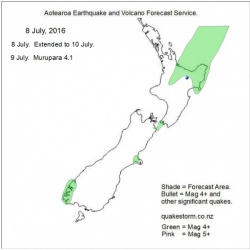 Click to Enlarge

Quake activity may increase.
Magnitude 4+ risk areas are East Cape, Bay of Plenty, Tokoroa, Taumarunui, Urewera, Wairoa, Cook Strait, Wellington, Seddon, Christchurch, Fiordland.
Volcanoes quiet.
Forecast confidence = low.
The forecast period may be extended.

Update. 8 July 2330NZST.
The forecast period is extended to 10 July.
Local quakes were quiet today.
A quake buildup is underway.
Kepler Mountains are higher risk Fiordland location.
Christchurch remains a Mag 4 risk area.

Summary.
9 July. Murupara 4.1, Picton 3.6
10 July. Taihape 3.5
Quakes were busy during the period but mostly low in magnitude.
The Wairoa "slow slip" quake seems to be ongoing.
Quakes are likely to stay below Mag 4 next few days but conditions are tricky so confidence is low.
12 July is more likely for quakes to go above Mag 4.
July/August could be quieter than previous months.

Content © Roary Arbon 2013 - 2016
Website Design by Go Tech.