Pacific Summary. 13 July 2016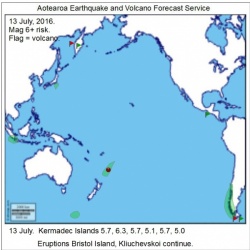 Click to Enlarge

Quake activity may increase.
Magnitude 6+ risk areas are Southern Chile, Macquarie Island, Kermadec Islands, Southern Sumatra, South of Honshu.
Volcanic activity may increase. Santiaguito, Calbuco.

Summary.
13 July. North of Raoul Island 5.7, 6.3, 5.7, 5.1, 5.7, 5.0.
Difficult, stormy forecasting conditions during the period were all over the place.
A new quake period begins 18 July and Aotearoa could be in the zone.
The eruption at Bristol Island is ongoing as is the eruption of Kliuchevskoi on the Kamchatka Peninsula.

Content © Roary Arbon 2013 - 2016
Website Design by Go Tech.