Aotearoa Summary. 13 July 2016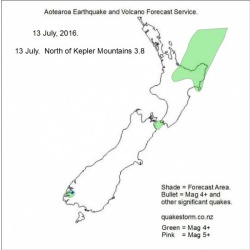 Click to Enlarge

Quake activity may increase.
Magnitude 4+ risk areas are East Cape, Bay of Plenty, Rotorua, Urewera, Wairoa, Cook Strait, Kepler Mountains.
Volcanoes quiet.

Summary.
13 July. North of Kepler Mountains 3.8.
Big quakes made it to the Kermadec Islands but not quite to New Zealand.
The Fiordland, north of Kepler Mountains 3.8 was the biggest local quake and good location success.
Quake and forecasting conditions were similar to local weather conditions during the period....stormy.
What happens above ground also happens below.
A slight possibility for Mag 4 Aotearoa action on 16 July should then ease until a new quake period begins 18 July.

Content © Roary Arbon 2013 - 2016
Website Design by Go Tech.