Pacific Summary. 19 July 2016 - 21 July 2016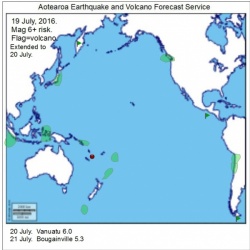 Click to Enlarge

Quake activity may increase.
Magnitude 6+ risk areas are Kermadec Islands, South of Kermadec Islands, Fiji, Celebes Sea, Banda Sea, Sumatra, Southwest of Sumatra, Eastern Honshu, British Colombia, South of Titicaca, North of Macquarie Island, Sea of Marama.
Volcanic activity may increase. Santiaguito, Sinabung, Kliuchevskoi,
Bristol Island, Piton de la Fournaise.
The forecast map may be updated on 18 July.
The forecast period is likely to be extended.

Update. 19 July 2330NZST.
The forecast is extended to 20 July.
Central Chile,Tonga are added to Mag 6+ risk areas.
Pacific quakes were below Mag 6 today.
Quake driving conditions are arriving very late 19 July.
The period is likely to be extended. Update. 20 July, 2330NZST. (from quakestorm.co.nz)
Sorry but we've got Internet problems with the heavy rain.
Limited forecast offered.
Driving conditions are here, quakes still quiet.
Action possible 21 July Pacific and Aotearoa.
Local forecast areas unchanged. Eastern Solomons added to Pacific Mag 6.
Low confidence.
Thanks.

Summary.
20 July. Vanuatu 6.0
21 July. Eastern Solomons, Bougainville 5.3
The Vanuatu 6.0 barely raised activity above random in a period where activity was well below Mag 6.
Internet issues didn't allow a forecast to be posted on Facebook and other mistakes.
The largest quake on 21 July was the Bougainville 5.3 and some forecast redemption.



Content © Roary Arbon 2013 - 2016
Website Design by Go Tech.