Aotearoa Summary. 19 July 2016 - 21 July 2016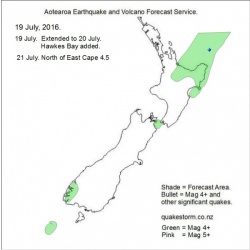 Click to Enlarge

Quake activity may increase.
Magnitude 4+ risk areas are East Cape, Bay of Plenty, Rotorua, Urewera, Wairoa, Cook Strait, Southern Fiordland, Te Anau, Snares Islands.
Volcanoes quiet.
The forecast map may be updated on 18 July.
The forecast period is likely to be extended.

Update. 19 July 2330NZST.
The forecast period is extended to 20 July.
Hawkes Bay is added to Mag 4+ risk areas.
Local quakes were below Mag 4 today.
Quake conditions are setting in very late in the day.
The forecast period is likely to be extended.

Update. 20 July, 2330NZST.
Sorry but we've got Internet problems with the heavy rain.
Limited forecast offered.
Driving conditions are here, quakes still quiet.
Action possible 21 July Pacific and Aotearoa.
Local forecast areas unchanged. Eastern Solomons added to Pacific Mag 6.
Low confidence.
Thanks

Summary.
21 July. North of East Cape 4.5
This forecast mostly turned to custard.
Due to slow Internet speed, data gathering was limited and Facebook wouldn't load and other mistakes.
A patchy forecast was posted on the quakestorm site.
Luckily there's never time to dwell on forecast failures, nor unfortunately to bathe in the glowing light of forecast success.
A new forecast period could begin early 23 July.

Content © Roary Arbon 2013 - 2016
Website Design by Go Tech.