Pacific Summary. 26 July 2016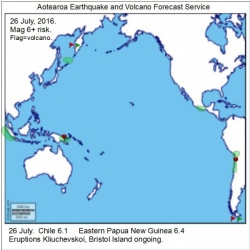 Click to Enlarge

Quake activity may increase.
Magnitude 6+ risk areas are Eastern Papua New Guinea, Sumatra, Central Kuril Islands, Southern Mexico, South of Titicaca, Santiago, Turkey, Southern Greece.
Volcanic activity may increase. Sinabung, Kliuchevskoi, Bristol Island, Piton de la Fournaise.

Summary.
26 July. South of Titicaca 6.1, Eastern Papua New Guinea 6.4
Six days without Pacific Mag 6 quakes ended suddenly today.
Two location successes to bemuse the sceptics.
Conditions last few days have been bumpy and just under Mag 6 making for difficult forecasting.
The eruptions at Kliuchevskoi and Bristol Island continue. No data for other volcanoes yet but big volcanic action seems unlikely.
The decision not to offer a forecast for New Zealand was a mistake.
A brief moderate quake period is possible from late 27 July.
Detailed local and Pacific forecasts will be posted on 27 July.

Content © Roary Arbon 2013 - 2016
Website Design by Go Tech.