Pacific Summary. 29 July 2016 - 30 July 2016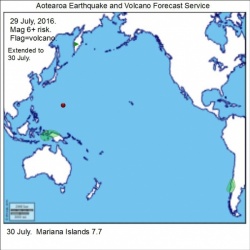 Click to Enlarge

Quake activity may increase.
Magnitude 6+ risk areas are Southern Chile, Western Papua New Guinea, Banda Sea.
Volcanic activity at Kliuchevskoi may continue.
Confidence = low.

Update. 29 July 2330NZST.
The forecast period is extended to 30 July.
Southern Greece, Aegean Sea are added to Mag 6+ risk areas.
Piton de la Fournaise is added to volcanoes.
Quake driving conditions picked up a little today and are increasing more tonight but no quakes yet.
Piton de la Fournaise rumbled but didn't erupt on 26 July. An eruption soon seems likely.

Summary.
30 July. Mariana Islands 7.7
The largest Pacific quake since the 17 April Ecuador 7.8 barely made news.
The deep quake under the the remote and uninhabited volcanic island Agrihan was hardly felt.
Agrihan is unpopulated because of regular eruptions.
More forecasting gains and two largest 2016 Pacific Mag 7 quakes in forecast periods.
Eruption of Fuego 28 July. No data for Piton de la Fournaise.
A brief quake period begins 2 July.

Content © Roary Arbon 2013 - 2016
Website Design by Go Tech.