Pacific Summary. 3 August 2016 - 4 August 2016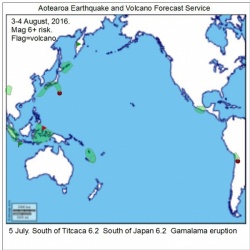 Click to Enlarge

Quake activity may increase.
Magnitude 6+ risk areas are Vanuatu, Banda Sea, South of Philippines, Sumatra, East of Himalayas, South of Japan, Southern Honshu, South Kuril Islands, Mexico, South of Titicaca, Eastern Turkey.
Low possibility Mag 4+ Germany.
Volcanoes may become active from 4 August. Sinabung, Rinjani, Kliuchevskoi.
The forecast period is likely to be extended.

Update. 3 August 2330NZST.
No Pacific Mag 6 quakes today.
Indonesian volcano Gamalama blew a moderate ash cloud today.
More volcanic action seems possible at Gamalama next few days.

Summary.
5 August. South of Titicaca 6.2 0215NZST.
South of Japan 6.2 0424NZST.
Quakes finally turned up at the end of the forecast period.
Two location successes to keep the sceptics guessing.
The quake period has not ended so a new forecast map for 5-6 August with reduced Pacific risk areas and one non Pacific addition will be posted.
Minor eruption of Gamalama in Northeast Indonesia.
Possibility for another eruption of Gamalama.
No data available yet for Pacific volcanoes.

Content © Roary Arbon 2013 - 2016
Website Design by Go Tech.