Pacific Summary. 5 August 2016 - 6 August 2016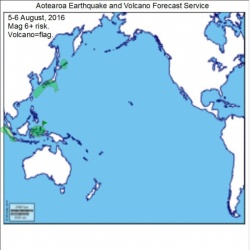 Click to Enlarge

Quake activity may increase.
Magnitude 6+ risk areas are South of Philippines, Molucca Sea, Sumatra, South of Japan, Southern Kuril Islands, Hindu Kush, Eastern Turkey.
Volcanic activity may increase. Gamalama.

Summary.
No more big quakes after the two Mag 6 rumbles very early on 5 August (see 3-4 August Summary).
Quake driving conditions were present 5-6 August despite no big quakes and also on 7 August so a low confidence forecast will be posted for 8 August, anticipating a late isolated Pacific Mag 6.
Minor volcanic activity 5 August on Etna, Santiaguito, Gamalama, Sinabung.


Content © Roary Arbon 2013 - 2016
Website Design by Go Tech.