Pacific Summary. 9 August 2016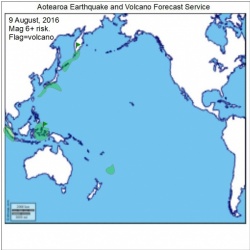 Click to Enlarge

Quake activity may increase.
Magnitude 6+ risk areas are Kermadec Islands, Banda Sea, Molucca Sea, South of Philippines, South of Japan, Southern Honshu, Kuril Islands, Sumatra.
Volcanic activity may increase. Gamalama, Kliuchevskoi, Santiaguito, Etna.
Sicilian volcano Etna is throwing ash. More activity is possible.
More info on Facebook/Roary Arbon.

Summary.
9 August. Minor eruptions at Nevados de Chillan, Santiaguito, Sinabung, Kliuchevskoi, Etna.
No Mag 6 quakes. Chasing isolated big Pacific quakes is probably a step too far at the moment for this Service.
Volcanoes became moderately active 8-9 August giving some forecast redemption.
Note. Some volcano forecasts are being made after the eruptions have taken place due to the slow arrival of volcano data.
No Mag 4 quakes in Aotearoa.
A new quake period begins at the next full moon.

Content © Roary Arbon 2013 - 2016
Website Design by Go Tech.