Aotearoa Summary. 17 August 2016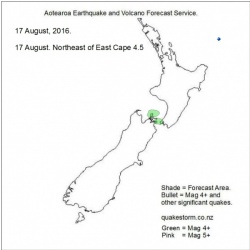 Click to Enlarge

Quake activity may increase.
Magnitude 4+ risk areas are Northern Cook Strait, Wellington, D'Urville Island.
Volcanoes quiet.

Summary.
17 August. Northeast of East Cape 4.5
The casual outlook for quiet local quake conditions July/August are being confirmed.
Big isolated Pacific quakes in August could also mean isolated moderate local quakes...but none so far.
More info at Facebook/Roary Arbon.

Content © Roary Arbon 2013 - 2016
Website Design by Go Tech.