Pacific Summary. 23 August 2016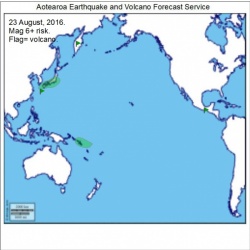 Click to Enlarge

Quake activity may increase.
Magnitude 6+ risk areas are Southern Honshu, Kyushu, Guadalcanal, Santa Cruz Islands.
Volcanic activity may increase. Sakurajima, Kliuchevskoi.

Update. 23 August 1100NZST.
Fuego is added to volcanoes.

Summary.
No big Pacific quakes or eruptions on 23 August.
This forecast was made about three days too late.

Content © Roary Arbon 2013 - 2016
Website Design by Go Tech.