Aotearoa Summary. 24 August 2016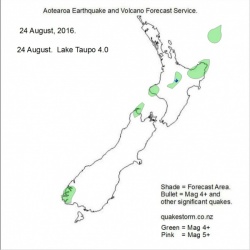 Click to Enlarge

Quake activity may increase.
Magnitude 4+ risk areas are Northeast of East Cape, East Cape, Eastern Bay of Plenty, Urewera, Rotorua, Tokoroa, Taumarunui, Taranaki, Southwest Taranaki Bight, Kahurangi, Fiordland.
Volcanoes quiet.
Forecast confidence=low.

Summary.
24 August. Western Lake Taupo 4.0
This forecast was a great success.
The quake period may be over for Aotearoa although big equatorial Pacific quakes may continue on 25 August.

Content © Roary Arbon 2013 - 2016
Website Design by Go Tech.