Pacific Summary. 30 August 2016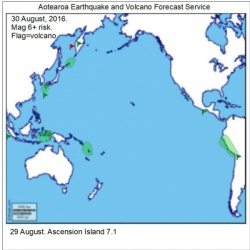 Click to Enlarge

Quake activity may increase.
Magnitude 6+ risk areas are Vanuatu, Santa Cruz Islands, Banda Sea, West Papua, South of Kyushu, Kuril Islands, Peru.
Volcanic activity may increase.
Sinabung, Suwanose-jima, Kliuchevskoi, Santiaguito, Sabancaya.
The forecast period is likely to be extended.

Summary.
29 August. North of Ascension Island 7.1
30 August. Eruption Kliuchevskoi.
The big Atlantic Ocean 7.1 continued the August trend for isolated Mag 7 quakes.
Weaker than expected aurora didn't drive many quakes or eruptions during the period.
Steady weak solar driving conditions next few days could produce another isolated big quake, a difficult forecast challenge.

Content © Roary Arbon 2013 - 2016
Website Design by Go Tech.