Aotearoa Summary. 30 August 2016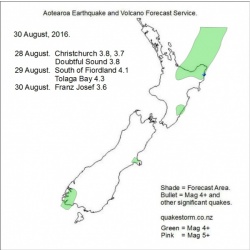 Click to Enlarge

Quake activity may increase.
Magnitude 4+ risk areas are East Cape, Bay of Plenty, Urewera, Rotorua, North Wairarapa, Christchurch, Fiordland.
Volcanoes quiet.
The forecast period is likely to be extended.

Summary.
28 August. Christchurch 3.8, 3.7
29 August. South of Fiordland 4.1, Tolaga Bay 4.3
30 August. Franz Josef Glacier 3.6
The South Island got a bit rattly on 28/29 August, creeping up toward Mag 4.
The Tolaga Bay 4.3 arrived soon after the forecast was posted.
The July/August local quiet trend continues.
Steady weak quake driving conditions next few days could build into some weak Mag 3/4 action. Difficult forecasting conditions.

Content © Roary Arbon 2013 - 2016
Website Design by Go Tech.