Pacific Summary. 2 September 2016 - 3 September 2016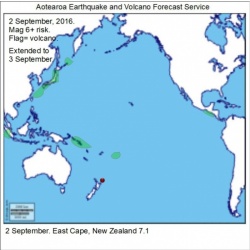 Click to Enlarge

Quake activity may increase.
Magnitude 6+ risk areas are Santa Cruz Islands, Guadalcanal, South of Japan, Kyushu, Kuril Islands.
Volcanic activity may increase.
Sinabung, Kliuchevskoi.

Update. 2 Sept 2400NZST.
2 September. East Cape, New Zealand 7.1
The forecast period is extended to 3 September.
Tonga, Honshu, Sumatra, Nicaragua are added to Mag 6+ risk areas.
The month long Pacific quake sequence continues...this time close to home.
Pacific quakes were generally quiet today, meeting the forecast profile for big isolated quakes.
Volcanoes were apparently quiet but the switch from quakes to volcanoes may come soon and could result in a substantial eruption.

Summary.
2 September. Northeast of East Cape, New Zealand 7.1
The trend for big isolated quakes continues.
One big quake during the period.
The eruption of Kliuchevskoi continued.

Content © Roary Arbon 2013 - 2016
Website Design by Go Tech.