Aotearoa Summary. 2 September 2016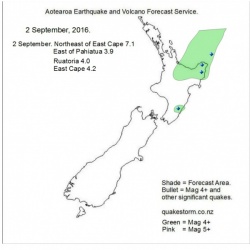 Click to Enlarge

Quake activity may increase.
Magnitude 4+ risk areas are East Cape, Bay of Plenty, Rotorua, Urewera, Gisborne, North Wairarapa.
Volcanoes quiet.

Update. 2 September 1330NZST.
2 September. 70km northeast of East Cape 7.1, East of Pahiatua 3.9.
The Mag 7 Pacific sequence in August has come to New Zealand.
Swarms of lesser quakes will obviously hit in coming days.
The decision to not forecast Mag 5+ for the exact quake location was a mistake. The area received a 5.8 foreshock yesterday.
Quake driving conditions are steady again today and the potential for another Mag 7 Pacific quake.
New forecast tonight.

Summary.
2 September. 100km northeast of East Cape 7.1, Ruatoria 4.0, East Cape 4.2, Pahiatua 3.9
The biggest Aotearoa quake since the 3 July, 2012 Taranaki 7.0 unleashed itself at the grand hour of 4.37am.
East Cape locals didn't wait for their smartphones to tell them what to do but got away from the sea.
A 30cm tsunami hit soon after but the quake was too deep to make a big tsunami.
The month long Pacific Mag 7 sequence continues...now here.
Quake driving conditions are still very elevated so local quakes may be very frequent and possibly moving towards East Cape and further.

Content © Roary Arbon 2013 - 2016
Website Design by Go Tech.