Pacific Summary. 4 September 2016 - 5 September 2016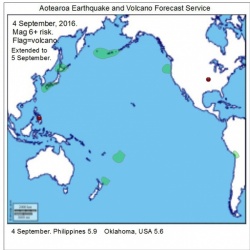 Click to Enlarge

Quake activity may increase.
Magnitude 6+ risk areas are East Cape, Tonga, Southern Honshu, Kyushu, Aleutian Islands, Oregon.
Volcanic activity may increase.
Kliuchevskoi, Sinabung.
Possibility Mag 7 Pacific. Mag 7 confidence=low.

Update. 4 September 1400NZST.
Titicaca, Hokkaido, South Kuril Islands are added to Mag 6+ risk areas.

Update. 4 September 2200NZST.
The forecast period is extended to 5 September.

Summary.
4 September. Southern Philippines 5.9; Oklahoma, USA 5.6
Pacific quakes dropped below Mag 6 after the New Zealand 7.1.
Moderate ongoing eruptions at Sinabung, Kliuchevskoi.

Content © Roary Arbon 2013 - 2016
Website Design by Go Tech.