Aotearoa Summary. 4 September 2016 - 5 September 2016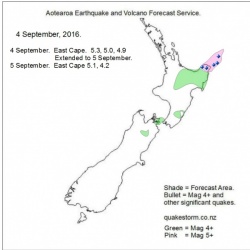 Click to Enlarge

Quake activity may increase.
Magnitude 5+ risk areas are Northeast of East Cape, East Cape.
Magnitude 4+ risk areas are Bay of Plenty, Rotorua, Taupo, Urewera, Wairoa, North Wairarapa, Northern Cook Strait, Awatere Valley, South of Lake Rotoiti.
Volcanoes quiet.

Update. 4 September 2200NZST.
The forecast period is extended to 5 September.

Summary.
4 September. East Cape 5.3, 5.0, 4.9
5 September. East Cape 5.1, 4.2
Plenty of aftershock activity from the 2 September 100km Northeast of East Cape 7.1.
Quakes further south were infrequent.
The Pacific August/September trend for big quakes and intervening quiet periods has continued since East Cape 7.1.

Content © Roary Arbon 2013 - 2016
Website Design by Go Tech.