Aotearoa Summary. 6 September 2016 - 7 September 2016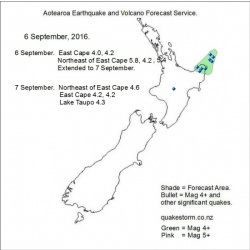 Click to Enlarge

Quake activity may increase.
Magnitude 4+ risk areas are Northeast of East Cape, East Cape.
Volcanoes quiet.

Update. 7 September 0000NZST.
6 September. East Cape 4.2, 4.0. Northeast of East Cape 5.8, 5.4, 4.2.
The forecast period is extended to 7 September.
Plenty more aftershock action from the 2 September Northeast of East Cape 7.1.

Summary.
6 Septermber. Northeast of East Cape 5.8, 5.4, 4.2, East Cape 4.2, 4.0
7 September. Northeast of East Cape 4.6; East Cape 4.2, 4.2; Lake Taupo 4.3
Quakes were settling today as the end of the long 1-7 September quake period nears.
Conditions may be quieter again tomorrow.
Geonet report a heat surge at Ruapehu. This Service has noticed a heat surge across the Upper North Island but even a minor steam eruption seems unlikely at any volcano except White Island.

Content © Roary Arbon 2013 - 2016
Website Design by Go Tech.