Pacific Summary. 7 September 2016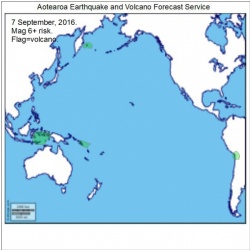 Click to Enlarge

Quake activity may increase.
Magnitude 6+ risk areas are Santa Cruz Islands, Banda Sea, Kamchatka Peninsula, Titcaca.
Possibility Mag 7 Pacific. Mag 7 confidence=low.

Summary.
7 September. Mauna Loa, Hawaii 4.0
No big isolated quakes today in the Pacific.
Volcanic heating at Hawaii and North Island, New Zealand.
The expectation for a single large isolated Pacific quake remains as the end of the quake period approaches.

Content © Roary Arbon 2013 - 2016
Website Design by Go Tech.