Aotearoa Summary. 8 September 2016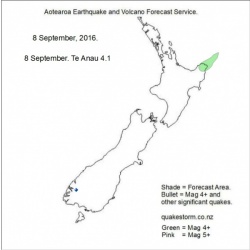 Click to Enlarge

Quake activity may increase.
Magnitude 4+ risk areas are Northeast of East Cape, East Cape.
Volcanoes quiet.
Local activity is likely to be decreasing as the end of the 1-8 September quake period approaches.

Summary.
8 September. Te Anau 4.1
Quakes dropped below Mag 4 at East Cape.
The Ruapehu volcanic heating reported by Geonet was observed at other volcanoes in the North Island and Hawaii.
The 2 September East Cape 7.1 forecast map was very cautious with magnitude, had two excellent location successes, dropping the regularly forecasted Fiordland and overall was right in the zone.
The quake now offers the chance to forecast aftershock sequences.
The next aftershock sequence may begin 14 September.

Content © Roary Arbon 2013 - 2016
Website Design by Go Tech.